Comparative analysis of gum Arabic and molasses (binders) in briquettes produced from millet husks
Keywords:
Millet husk, Gum Arabic, Molasses.
Abstract
The study was carried out to investigate the effects of binders (molasses and gum Arabic) on millet husk in the production of briquettes. Fixed quantities of millet husk were used to produce briquettes with varying percentage of binders (10%, 20% and 30%). Low pressure fabricated briquetting machine was used for compression to produce the briquettes, after sun drying to reduce the moisture content to minimum value. The proximate analysis conducted, indicated the range of moisture content% (2.1-3.0) ash content% (7.8-11.4) volatile matter% (61.9-76.6) and fixed carbon% (13.0-26.5). The physical properties had the values ranging from (0.52-0.60), (0.18-0.24) (1.69-1.80), (2.31-3.14), (3.5-23.2), (4.7-30.2) for compressed density (g/cm3), relaxed density (g/cm3), compaction ratio, relaxation ratio, durability (%) and water resistant (sec) respectively. The fuel density included ignition time (sec), after glow(sec), boiling time (minutes) and calorific value (J/kg) with the value ranging from (2.3-8.3), (2.0-24.4), (16.10-19.13) and (29830.95-30119.84) respectively. The study shows that millet husk with gum Arabic serves as a better combination for the production of briquettes.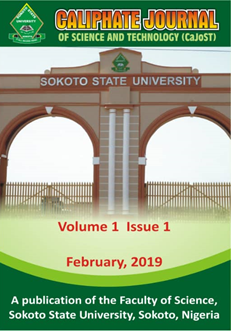 Downloads
How to Cite
Arzika A. Tambuwal, Abdulhameed Salihu, Yunusa M. Boyi, Sani Garba, Adamu S. Muhammad, Yusuf Sahabi, Hauwa'u Umar, & Mubarak Muhammad. (2023). Comparative analysis of gum Arabic and molasses (binders) in briquettes produced from millet husks. CaJoST, 5(1), 59–65. Retrieved from http://cajost.com.ng/index.php/files/article/view/109