Synthesis and characterization of zinc oxide nanoparticles (ZnO-NPs) for biodiesel production using waste frying oil (WFO)
Keywords:
Nanomaterials,, nanoparticles,, zinc oxide,, zinc nitrate,, sodium hydroxide.
Abstract
In this research, zinc oxide nanoparticles (ZnO-NPs) were synthesized by simple solution-based approach using zinc nitrate [Zn(NO3)2.6H2O] and sodium hydroxide (NaOH) as precursor. The Synthesized ZnO-NPs were characterized by XRF, XRD and TGA methods. XRD method confirmed the formation of nanosized zinc oxide particles in the size range of 13–47 nm. XRF and TGA were used to determine the elemental composition and thermal stability of ZnO-NPs, respectively. The ZnO-NPs were used as catalyst in the production of biodiesel from waste frying oil (WFO) via transesterification method. The transesterification process yielded 97.8 % (w/w) WFO biodiesel. The results of the fuel properties revealed that, all the parameters tested are within the ASTM limits, indicating that the biodiesel produced could be used as an alternative diesel fuel.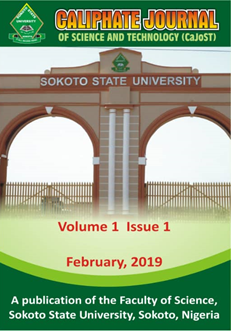 Downloads
How to Cite
Yaquba M. Sahabi, Samira S. Adamu, Jamilu Usman, assan Abubakar, Nafisa Bello, Zainab I. S. G. Adiya, & Fatima M. Sahabi. (2023). Synthesis and characterization of zinc oxide nanoparticles (ZnO-NPs) for biodiesel production using waste frying oil (WFO). CaJoST, 5(1), 16–21. Retrieved from http://cajost.com.ng/index.php/files/article/view/102